One of a Pair of Maya Painted Earflares with Profile Deity Heads
300-600 CE (Early Classic)
These ceramic ornaments were likely the front of a pair of earflares (sometimes called earspools), elaborate ornaments worn by the ancient Maya. Originally, these would have formed the front of thick bars (like those in WAM 2009.20.65). When balanced with a counterweight such as a heay bead which hung behind the ear, these earflares would have been on display in the wearer's earlobes. People's ears were pierced, and the hole was expanded over time in order to wear such finery. The faces shown on the earflares are somewhat enigmatic: they may show the face of the Maya Maize (corn) god, with his characteristic overbite, chinstrap beard, and long flowing hair recalling cornsilk. However, the two facing males may also reference the Hero Twins, mythical culture heroes of the Maya peoples.
The earflare frontals are unusual in that they are very finely painted, yet the exquisite detailing has been executed on ceramic, rather than a more precious material. More common materials include jade or shell. However, the fineline imagery is similar to that on many Maya ceramics.
Provenance

Provenance (from the French provenir, 'to come from/forth') is the chronology of the ownership, custody, or location of a historical object.
Fine Arts of Ancient Lands, New York [date and mode of acquisition unknown]; Joyce Strauss, Denver, active ca. mid 1960s-1980s [date and mode of acquisition unknown]; Merrin Gallery, New York [date and mode of acquisition unknown]; Private collection, April 1989 [mode of acquisition unknown]; Walters Art Museum, 2008, by gift.
Exhibitions
| | |
| --- | --- |
| 2018-2019 | Transformation: Art of the Ancient Americas. The Walters Art Museum, Baltimore. |
Geographies
Belize (Place of Origin) Mexico (Place of Origin)

Guatemala (Place of Origin)
Honduras (Place of Origin)
Measurements
H: 2 5/8 x W: 1/8 in. (6.7 x 0.3 cm) (diam. x d.)
Credit Line
Anonymous gift, 2008
Location in Museum
Not on view
Accession Number

In libraries, galleries, museums, and archives, an accession number is a unique identifier assigned to each object in the collection.
48.2790B
Do you have additional information?
Related Objects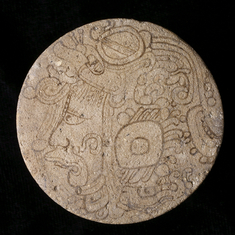 One of a Pair of Maya Painted Earflares with Profile Deity Heads
300-600 CE (Early Classic)
view details