arrow_forward_ios

arrow_forward_ios
A Festive Gathering
ca. 1163 AH/AD 1750 (Mughal)
This painting celebrates the pleasures of smoking and partaking in good company. The composition is made up of animated vignettes. Look, for example, in the right corner, where a man in orange sits with betel quids—a mild stimulant—arrayed in front of him, watching two men embroiled in a dispute, one with a dagger drawn. A second pair, at the far end and close to the pavilion, seems also to be enraged enough to draw blood. The rest look on in anticipation, smoking and conversing.
Provenance

Provenance (from the French provenir, 'to come from/forth') is the chronology of the ownership, custody, or location of a historical object.
John and Berthe Ford, Baltimore [date and mode of acquisition unknown]; Walters Art Museum, 2002, by gift.
Conservation
| Date | Description | Narrative |
| --- | --- | --- |
| 3/26/2018 | Examination | examined for exhibition |
Measurements
H: 13 1/8 x W: 9 7/8 in. (33.34 x 25.08 cm); Framed H: 26 1/4 × W: 21 3/4 × D: 1 1/2 in. (66.68 × 55.25 × 3.81 cm)
Credit Line
Gift of John and Berthe Ford, 2002
Location in Museum
Not on view
Accession Number

In libraries, galleries, museums, and archives, an accession number is a unique identifier assigned to each object in the collection.
W.904
Do you have additional information?
Related Objects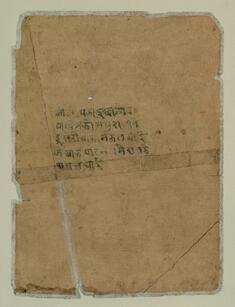 A Pleasure Pavillion (Back)
ca. 1163 AH/AD 1750 (Mughal)
view details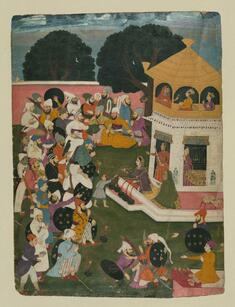 A Pleasure Pavillion
ca. 1163 AH/AD 1750 (Mughal)
view details