Tsuka with Rooster, Chicken, and Hollyhock
The tsuka is wrapped with a white silk cord that holds in place the two menuki. One menuki is in the shape of a rooster and the other is in the shape of a chicken. The hollyhock kashira matches the fuchi mounted on the same sword. This is part of a mounted set.
Inscription
Provenance

Provenance (from the French provenir, 'to come from/forth') is the chronology of the ownership, custody, or location of a historical object.
Henry Walters, Baltimore [date and mode of acquisition unknown]; Walters Art Museum, 1931, by bequest.
Geographies
Japan, Kyoto (Place of Origin) Japan, Tokyo (Edo) (Place of Origin)

Measurements
L: 8 7/16 in. (21.4 cm)
Credit Line
Acquired by Henry Walters
Location in Museum
Not on view
Accession Number

In libraries, galleries, museums, and archives, an accession number is a unique identifier assigned to each object in the collection.
51.1259.3B
Do you have additional information?
Related Objects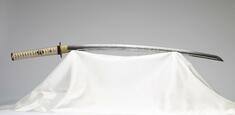 Sword (katana) with black lacquer with green netting
1824-1863 (late Edo; Meiji; Momoyama)
view details