arrow_forward_ios

arrow_forward_ios
Page of Ottoman Calligraphy
10th century AH/AD 16th century-12th century AH/AD 18th century (Ottoman)
This folio from Walters manuscript W.672 is inscribed with passages from hadith literature (accounts of what the Prophet Muhammad did or said) and is written in Naskh and Thuluth scripts. Naskh, the smaller hand, is used for the text on the lower portion, while Thuluth (the larger hand) is used for the top lines.
Provenance

Provenance (from the French provenir, 'to come from/forth') is the chronology of the ownership, custody, or location of a historical object.
Henry Walters, Baltimore [date and mode of acquisition unknown]; Walters Art Museum, 1931, by bequest.
Exhibitions
| | |
| --- | --- |
| 2015-2016 | Pearls on a String: Artists, Patrons, and Poets at the Great Islamic Courts. The Walters Art Museum, Baltimore; Asian Art Museum, San Francisco. |
Geographies
Turkey (Place of Origin)
Measurements
H: 11 13/16 x W: 9 1/16 in. (30 x 23 cm)
Credit Line
Acquired by Henry Walters
Location in Museum
Not on view
Accession Number

In libraries, galleries, museums, and archives, an accession number is a unique identifier assigned to each object in the collection.
W.672.2B
Do you have additional information?
Parent Object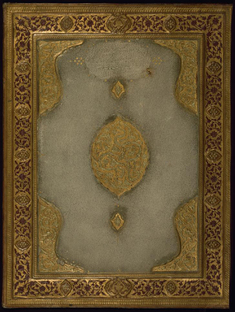 Album of Calligraphy
10th century AH/16th century AD-12th century AH/18th century AD (Ottoman)
view details