arrow_forward_ios

arrow_forward_ios
Page of Ottoman Calligraphy
10th century AH/AD 16th century-12th century AH/AD 18th century (Ottoman)
This page from Walters manuscript W.672 bears the name of the celebrated Ottoman calligrapher Seyh Hamdullah (Hamd Allah al-Amasi, died 926 AH/AD 1520). The colophon may be translated into English as follows: This was written by Hamdu Llah, [who is] known as the sheikh's son, [while] praising God--exalted is he--and praying for his messenger Muhammad and his family, the pure ones, all of them, and praying for their safety. [This was] at the time of his hoariness as his hair glistened white and his head trembled and he was close to the state of decrepitude, being 80 and some odd years old. May God have mercy on those who act equitably and forgive and those who consider [things] closely and pray, because mankind was made to abide in deficiency and here am I, characterized by forgetfulness and disobedience.
Inscription
Provenance

Provenance (from the French provenir, 'to come from/forth') is the chronology of the ownership, custody, or location of a historical object.
Henry Walters, Baltimore [date and mode of acquisition unknown]; Walters Art Museum, 1931, by bequest.
Exhibitions
| | |
| --- | --- |
| 2015-2016 | Pearls on a String: Artists, Patrons, and Poets at the Great Islamic Courts. The Walters Art Museum, Baltimore; Asian Art Museum, San Francisco. |
Geographies
Turkey (Place of Origin)
Measurements
H: 11 13/16 x W: 9 1/16 in. (30 x 23 cm)
Credit Line
Acquired by Henry Walters
Location in Museum
Not on view
Accession Number

In libraries, galleries, museums, and archives, an accession number is a unique identifier assigned to each object in the collection.
W.672.5A
Do you have additional information?
Parent Object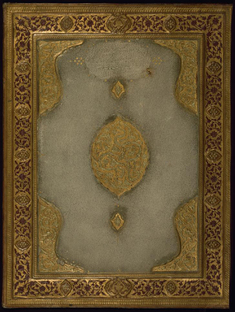 Album of Calligraphy
10th century AH/16th century AD-12th century AH/18th century AD (Ottoman)
view details