arrow_forward_ios

arrow_forward_ios
Page of Pen Exercises
10th century AH/AD 16th century-12th century AH/AD 18th century (Ottoman)
This folio from Walters manuscript W.672 is a sheet of pen exercises (karalama). Such pen exercises were commonly collected in albums. In their technique and design pattern, the borders of this page are comparable to ebru (marbled paper) made by Hatib Mehmed Efendi (died 1187 AH/AD 1773), a celebrated Ottoman artist.
Provenance

Provenance (from the French provenir, 'to come from/forth') is the chronology of the ownership, custody, or location of a historical object.
Henry Walters, Baltimore [date and mode of acquisition unknown]; Walters Art Museum, 1931, by bequest.
Exhibitions
| | |
| --- | --- |
| 2015-2016 | Pearls on a String: Artists, Patrons, and Poets at the Great Islamic Courts. The Walters Art Museum, Baltimore; Asian Art Museum, San Francisco. |
| 2009 | The Saint John's Bible: A Modern Vision through Medieval Methods. The Walters Art Museum, Baltimore. |
Geographies
Turkey (Place of Origin)
Measurements
H: 11 13/16 x W: 9 1/16 in. (30 x 23 cm)
Credit Line
Acquired by Henry Walters
Location in Museum
Not on view
Accession Number

In libraries, galleries, museums, and archives, an accession number is a unique identifier assigned to each object in the collection.
W.672.5B
Do you have additional information?
Parent Object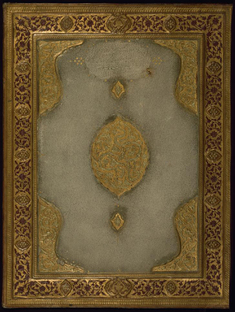 Album of Calligraphy
10th century AH/16th century AD-12th century AH/18th century AD (Ottoman)
view details