arrow_forward_ios

arrow_forward_ios
Illuminated Tailpiece with Thistle and a Skull for William T. Walters' Drawing Album "Original Sketches"
This drawing was specially commissioned from an as yet unidentified artist as the tailpiece to one of William T. Walters' albums of drawings. It shows a thistle growing up through the eye of a skull. The word "emigravit" appears below on a scroll. This is Latin for "departed," a word sometimes chosen for gravestone inscriptions. The thistle down blowing away in the wind is also a kind of momento mori.
Inscription
Provenance

Provenance (from the French provenir, 'to come from/forth') is the chronology of the ownership, custody, or location of a historical object.
Commissioned by William T. Walters, Baltimore, by 1859; inherited by Henry Walters, Baltimore, 1894; by bequest to Walters Art Museum, 1931.
Exhibitions
| | |
| --- | --- |
| 2014 | American Artists Abroad: Works from the Permanent Collection . The Walters Art Museum, Baltimore. |
Geographies
USA (Place of Origin)
Measurements
H: 8 1/16 × W: 6 in. (20.4 × 15.3 cm); Paper support H: 9 1/4 × W: 7 1/4 in. (23.5 × 18.4 cm); Mat H 19 1/4 × W: 14 1/4 in. (48.9 × 36.2 cm)
Credit Line
Commissioned by William T. Walters, by 1859
Location in Museum
Not on view
Accession Number

In libraries, galleries, museums, and archives, an accession number is a unique identifier assigned to each object in the collection.
37.1948
Do you have additional information?
Related Objects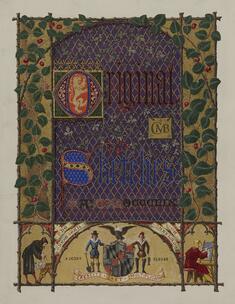 Illuminated Frontispiece with the Maryland Coat-of-arms for William T. Walters' Drawings Album "Original Sketches"
view details