arrow_forward_ios

arrow_forward_ios
Portrait of Shah Jahan
11th century AH/AD 17th century (Mughal; Safavid)
This Mughal portrait set in an oval medallion, Walters manuscript leaf W.703, dates to the late11th century AH/AD 17th and represents the Mughal Emperor Shah Jahan (died 1076 AH/AD 1666). The portrait is comparable to other depictions of the ruler, including Walters W.700, which is inscribed with Shah Jahan's name, Shah Jahan Holding a Turban Ornament in the Los Angeles County Museum of Art (M.78.6.15), and the relief portrait bust of Shah Jahan in alabaster housed in the Riksmuseum, Amsterdam (12249).
Provenance

Provenance (from the French provenir, 'to come from/forth') is the chronology of the ownership, custody, or location of a historical object.
Henry Walters, Baltimore [date and mode of acquisition unknown]; Walters Art Museum, 1931, by bequest.
Geographies
India (Place of Origin)
Measurements
H: 10 7/16 x W: 6 5/16 in. (26.5 x 16 cm); Image H: 5 7/8 x W: 3 1/8 in. (15 x 8 cm)
Credit Line
Acquired by Henry Walters
Location in Museum
Not on view
Accession Number

In libraries, galleries, museums, and archives, an accession number is a unique identifier assigned to each object in the collection.
W.703.A
Do you have additional information?
Parent Object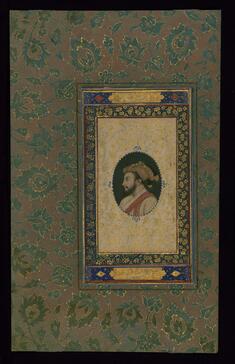 Single Leaf of a Portrait of Shah Jahan
11th century AH/AD 17th century (Mughal; Safavid)
view details