arrow_forward_ios

arrow_forward_ios
Youths Before a Ruler at his Court (Back)
early 11th century AH/AD 17th century (Safavid)
This is the back of an illustration on Walters leaf W.688. The framing lines in green, orange, blue, and black suggest that this illuminated page was originally intended for illustration or text.
Provenance

Provenance (from the French provenir, 'to come from/forth') is the chronology of the ownership, custody, or location of a historical object.
Henry Walters, Baltimore [date and mode of acquisition unknown]; Walters Art Museum, 1931, by bequest.
Geographies
Iran (Place of Origin)
Measurements
H: 15 3/8 x W: 9 7/16 in. (39 x 24 cm)
Credit Line
Acquired by Henry Walters
Location in Museum
Not on view
Accession Number

In libraries, galleries, museums, and archives, an accession number is a unique identifier assigned to each object in the collection.
W.688.B
Do you have additional information?
Parent Object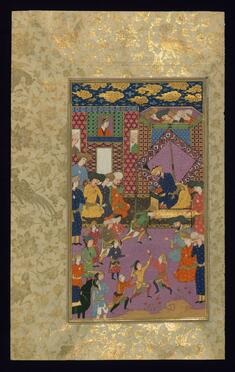 Single Leaf of Youths Before a Ruler at his Court
early 11th century AH/AD 17th century (Safavid)
view details