arrow_forward_ios

arrow_forward_ios
Bottle with Hanging Ornaments and Vases
late 17th-early 18th century (Kangxi)
porcelain with underglaze blue decoration
(China )
By the late 1600s, groupings of five or seven Chinese porcelain vessels with alternating shapes were often displayed over doors. A complete set was called a "garniture." This piece with the cobalt blue underglaze is from the Kangxi period (1662-1722) and was made for export to foreign markets.
Provenance

Provenance (from the French provenir, 'to come from/forth') is the chronology of the ownership, custody, or location of a historical object.
Acquired by William T. Walters, Baltimore; inherited by Henry Walters, Baltimore, 1894; by bequest to Walters Art Museum, 1931.
Geographies
China (Place of Origin)
Measurements
H: 12 1/8 in. (30.8 cm)
Credit Line
Acquired by William T. Walters
Location in Museum
Not on view
Accession Number

In libraries, galleries, museums, and archives, an accession number is a unique identifier assigned to each object in the collection.
49.1526
Do you have additional information?
Related Objects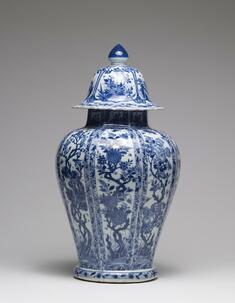 Jar with Climbing Floral Designs
view details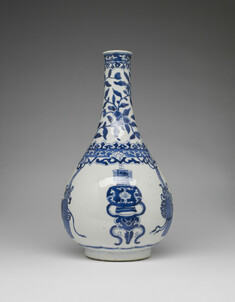 Bottle with Hanging Ornaments and Vases
late 17th-early 18th century (Kangxi)
view details