arrow_forward_ios

arrow_forward_ios
Binding for Ethiopic Psalter with Canticles, Song of Songs, and two hymns in praise of Mary
Early 18th century and 19th century
Binding is original. Blind-tooled, stamped goatskin with cross design over wooden boards.
Provenance

Provenance (from the French provenir, 'to come from/forth') is the chronology of the ownership, custody, or location of a historical object.
Gonderite royal family, before 1769; Wälättä Heywät and Wälättä Kidan [added prayers] [date and mode of acquisition unknown]; Walters Art Museum, 1960, by purchase.
Measurements
H: 12 3/16 x W: 11 7/16 in. (31 x 29 cm)
Credit Line
Purchased by the Walters Art Museum through the S. & A.P. Fund, 1960
Location in Museum
Not on view
Accession Number

In libraries, galleries, museums, and archives, an accession number is a unique identifier assigned to each object in the collection.
W.768.binding
Do you have additional information?
Parent Object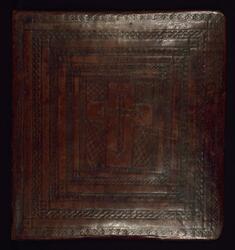 Ethiopic Psalter with Canticles, Song of Songs, and Two Hymns in Praise of Mary
Early 18th century and 19th century
view details