Back to All Categories
Renaissance Europe

The Walters' collection of European Renaissance art features one of the most significant holdings of Italian paintings in the Americas, many of which were acquired by Henry Walters with the Massarenti Collection (a previously unprecedented purchase of the contents of an Italian villa). This important collection includes not only paintings but also sculpture, furniture, ceramics, metalwork, jewelry, arms and armor, and locks and keys. The breadth of the Walters' collection offers a comprehensive display of the arts during this artistically fertile period. The best-known works include Hugo van der Goes' Donor with Saint John the Baptist, Heemskerck's Panorama with the Abduction of Helen Amidst the Wonders of the Ancient World, Veronese's Portrait Of Countess Livia da Porto Thiene and her Daughter Porzia, El Greco's Saint Francis Receiving the Stigmata, Bernini's Risen Christ, Tiepolo's Scipio Africanus Freeing Massiva, and The Ideal City attributed to Fra Carnavale.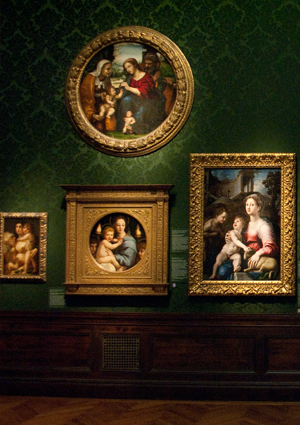 Revealing the African Presence in Renaissance Europe
The publication accompanying the exhibition Revealing the African Presence in Renaissance Europe is now available to view online or download. Explore the wealth of European art to reveal the hidden presence of Africans in Renaissance society and the many roles they played.
Publication