Circular Snuffbox with Portrait of Louis XIV, King of France
Miniature: ca. 1670-1680; Snuffbox: 1789 (Baroque)
This painted enamel portrait miniature of King Louis XIV is one of many of the French royalty done by Jean Petitot, the acclaimed French/Swiss miniature portrait painter. A similar piece, Walters 57.254, is also in the collection.
Provenance

Provenance (from the French provenir, 'to come from/forth') is the chronology of the ownership, custody, or location of a historical object.
Henry Walters, Baltimore; by bequest to Walters Art Museum, 1931.
Exhibitions
| | |
| --- | --- |
| 2000 | Small Northern European Portraits from The Walters Art Gallery, Baltimore. National Gallery of Art, Washington. |
| 1982 | 3000 Years of Glass: Treasures from The Walters Art Gallery. The Walters Art Gallery, Baltimore. |
Geographies
France (Place of Origin)
Measurements
H: 1 x W: 3 1/4 in. (2.6 x 8.3 cm)
Credit Line
Acquired by Henry Walters
Location in Museum
Not on view
Accession Number

In libraries, galleries, museums, and archives, an accession number is a unique identifier assigned to each object in the collection.
57.243
Do you have additional information?
Related Objects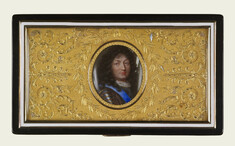 Snuffbox with Portrait of Louis XIV, King of France
Miniature: ca. 1670-1680; Snuffbox: ca. 1800 (Baroque)
view details