arrow_forward_ios

arrow_forward_ios
Lakshmana Fights Indrajit
An avatar of the god Vishnu, Rama's story is told in the "Ramayana," a beloved tale of kingship, morality, and devotion. It recounts the courageous feats of Rama, his wife, Sita, brother Lakshmana, and devoted follower Hanuman, who fight the evil powers of Ravana, the king of Lanka.
In this scene, Indrajit, a warrior in Ravana's army, is shown shooting an arrow at Lakshmana, who fires back. Rama is seen at far left, carried on the shoulders of his monkey ally Hanuman. At the very center of the painting, Hanuman is depicted again, tossing an enormous white boulder at the demons.
Provenance

Provenance (from the French provenir, 'to come from/forth') is the chronology of the ownership, custody, or location of a historical object.
John and Berthe Ford, Baltimore [date and mode of acquisition unknown]; Walters Art Museum, 2002, by gift.
Conservation
| Date | Description | Narrative |
| --- | --- | --- |
| 1/4/2018 | Examination | examined for exhibition |
Measurements
H: 8 3/8 x W: 12 1/2 in. (21.27 x 31.75 cm); Framed H: 20 1/16 × W: 15 1/4 × D: 1 1/4 in. (50.96 × 38.74 × 3.18 cm)
Credit Line
Gift of John and Berthe Ford, 2002
Accession Number

In libraries, galleries, museums, and archives, an accession number is a unique identifier assigned to each object in the collection.
W.902
Do you have additional information?
Related Objects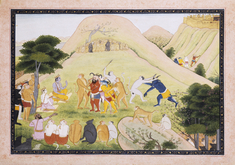 Capture of Demons in Lanka
view details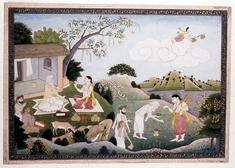 view details