arrow_forward_ios

arrow_forward_ios
Narada Visits Valmiki
This painting, made for a manuscript of the Ramayana epic, illustrates three moments of an episode in which the divine messenger Narada visits the elderly sage Valmiki, traditionally identified as the author of the Ramayana and the first poet of the Sanskrit language. During the visit, Narada summarized the story of Rama for Valmiki, who had sought to learn about a man who was perfect in every way. On the left, the two converse in front of a hut at Valmiki's hermitage ("ashrama"), accompanied by two yogi sages and a deer. In front of Valmiki and one of the yogis, two long, rectangular manuscripts have been unwrapped from their protective cloths. Narada has removed his shoes, which sit beneath his vina, the stringed instrument he is said to have invented. To the right, Valmiki bids Narada farewell, and above, Narada flies away.
Provenance

Provenance (from the French provenir, 'to come from/forth') is the chronology of the ownership, custody, or location of a historical object.
John and Berthe Ford, Baltimore [date and mode of acquisition unknown]; Walters Art Museum, 2002, by gift.
Measurements
9 1/4 x 13 3/8 in. (23.5 x 34 cm)
Credit Line
Gift of John and Berthe Ford, 2002
Accession Number

In libraries, galleries, museums, and archives, an accession number is a unique identifier assigned to each object in the collection.
W.909
Do you have additional information?
Related Objects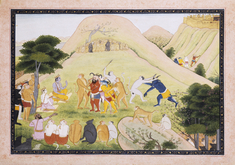 Capture of Demons in Lanka
view details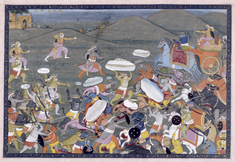 Lakshmana Fights Indrajit
view details