arrow_forward_ios

arrow_forward_ios
Bow Fibula
6th century (Early Medieval)
Bow fibulae are also called "digitated" fibulae, due to the radiating knobs that resemble fingers or digits; over time, their style changed. While the knobs of early (4th-century) fibulae were functional (holding the springs of the pin), they later became purely decorative. The five-knobbed fibula [54.2444] dates to the first half of the 6th century and was common in northern France and the Rhineland. Much less common, the seven-knobbed fibula [54.2443] is later in date. On the third fibula [54.2445], the knobs have degenerated into an undulating border, and the foot ends in a stylized animal head; this type of fibula has been found in graves dated to the later 6th or early 7th century, predominantly near the Rhine. They were worn in pairs at the shoulder by women with noble status in Frankish society.
Provenance

Provenance (from the French provenir, 'to come from/forth') is the chronology of the ownership, custody, or location of a historical object.
Carlebach Gallery, New York [date and mode of acquisition unknown]; Walters Art Museum, 1959, by purchase.
Exhibitions
| | |
| --- | --- |
| 1979-1980 | Jewelry - Ancient to Modern. The Walters Art Gallery, Baltimore. |
Conservation
| Date | Description | Narrative |
| --- | --- | --- |
| 10/24/1960 | Treatment | cleaned; coated |
| 6/8/1983 | Loan Consideration | examined for loan |
Measurements
H: 4 7/16 x W: 2 5/8 x 5/8 in. (11.3 x 6.7 x 1.6 cm)
Credit Line
Museum purchase with funds provided by the S. & A.P. Fund, 1959
Accession Number

In libraries, galleries, museums, and archives, an accession number is a unique identifier assigned to each object in the collection.
54.2443
Do you have additional information?
Related Objects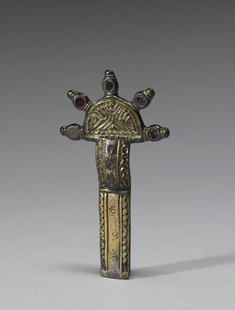 Bow Fibula
1st half 6th century (Early Medieval)
view details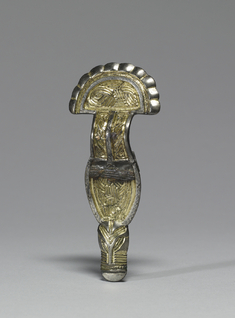 Bow Fibula
late 6th-early 7th century (Early Medieval)
view details