arrow_forward_ios

arrow_forward_ios
Garment Decoration ("Segmentum") with Man Killing Panther
4th-5th century (Early Byzantine)
Hunt and hunting motifs constitute a group of 5th-century classical subjects, which frequently appeared in early Byzantine textiles. While the content of the scenes was frequently symbolic in wall hangings and other pieces of interior decoration, hunt scenes as they appeared on clothing were generally intended as purely decorative. Framing the central subject of this fragment is a border composed of wine jugs and grape vines, a probable reference to Dionysus, the god of regeneration and rebirth.
Provenance

Provenance (from the French provenir, 'to come from/forth') is the chronology of the ownership, custody, or location of a historical object.
Mr. and Mrs. Charles D. Kelekian; Walters Art Museum, 1980, by gift.
Geographies
Egypt (Place of Origin)
Measurements
3 5/16 x 3 1/8 in. (8.4 x 8 cm)
Credit Line
Gift of Mr. and Mrs. Charles D. Kelekian, 1980
Location in Museum
Not on view
Accession Number

In libraries, galleries, museums, and archives, an accession number is a unique identifier assigned to each object in the collection.
83.737
Do you have additional information?
Related Objects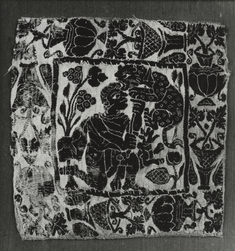 Garment Decoration ("Segmentum") with Man Killing Panther
4th-5th century (Early Byzantine)
view details