arrow_forward_ios

arrow_forward_ios
Tsuka with Chrysanthemums
A large chrysanthemum with leaves dominates the kashira. Each menuki is in the shape of chrysanthemums with a traditionally bound book. An inscription in ink on the end of tsuka implies the sword was mounted in Asakusa, Tokyo. This is part of a mounted set.
Inscription
Provenance

Provenance (from the French provenir, 'to come from/forth') is the chronology of the ownership, custody, or location of a historical object.
William T. / Henry Walters Collection, Baltimore [date and mode of acquisition unknown]; Walters Art Museum, 1931, by bequest.
Measurements
L: 4 1/8 in. (10.4 cm)
Credit Line
Acquired by William T. or Henry Walters
Location in Museum
Not on view
Accession Number

In libraries, galleries, museums, and archives, an accession number is a unique identifier assigned to each object in the collection.
51.1290.2
Do you have additional information?
Related Objects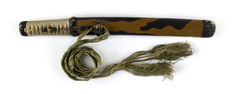 Dagger (aikuchi) with saya in two shades of brown lacquer with chrysanthemum mountings (includes 51.1290.1-51.1290.2)
view details