Dagger (aikuchi) with saya in two shades of brown lacquer with chrysanthemum mountings (includes 51.1290.1-51.1290.2)
Ca.1394 (Muromachi)
Steel, shakudo, silver, gold, brown lacquer, ray skin

Fuchi, kashira - Chrysanthemum; ink inscription under fuchi. Menuki - Chrysanthemums and book. Kozuka, kogai - Bamboo, chrysanthemum. Saya - Chrysanthemums, clouds.
Inscription
Geographies
Bizen (Place of Origin) Japan (Place of Origin)

Measurements
Overall: 14 3/4 in. (37.5 cm)
Credit Line
Acquired before 1931
Location in Museum
Not on view
Accession Number

In libraries, galleries, museums, and archives, an accession number is a unique identifier assigned to each object in the collection.
51.1290
Do you have additional information?
Related Objects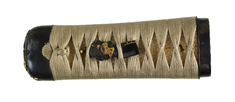 Tsuka with Chrysanthemums
view details

Kozuka with Bamboo and Chrysanthemums
view details

view details