Glossary of Islamic Legal Terminology
Walters manuscript W.590 is a manuscript copy of al-Misbah al-munir fi gharib al-Sharh al-Kabir by Ahmad ibn Muhammad al-Muqri al-Fayyumi (died ca. 770 AH/AD 1368). It is a dictionary of Islamic legal terms that was originally written as a gloss on the commentary of 'Abd al-Karim al-Rafi'i (died 623 AH/AD 1226) on al-Wajiz fi al-furu' by Abu Hamid Muhammad ibn Muhammad al-Ghazzali (died 505 AH/AD 1111), entitled Fath al-'aziz 'alá kitab al-Wajiz. The manuscript was copied by the shi`ite scribe 'Ali ibn Muhibb 'Ali in 1083 AH/AD 1673 in Iran. The text was later collated with three other manuscripts in Mecca in 1166 AH/AD 1752 by Muhammad al-Atrabazundi. The light brown goatskin binding with gold-tooled oval central medallion, pendants, and cornerpieces is contemporary with the manuscript.
Provenance

Provenance (from the French provenir, 'to come from/forth') is the chronology of the ownership, custody, or location of a historical object.
Muhammad Afandi Tarabizani [date and mode of acquisition unknown] [see fol. 2a]; Ahmad ibn 'Abd Allah al-Kadharuni [date and mode of acquisition unknown] [see fol. 2a]; Isma'il al-Sayyid 'Ata' Allah al-Maliki al-Husayni, 1113 AH/AD 1701 [mode of acquisition unknown] [see seal on fol. 2a]; Henry Walters, Baltimore [date and mode of acquisition unknown]; Walters Art Museum, 1931, by bequest.
Geographies
Iran (Place of Origin)
Measurements
Folio H: 11 x W: 6 5/16 in. (28 x 16 cm)
Credit Line
Acquired by Henry Walters
Location in Museum
Not on view
Accession Number

In libraries, galleries, museums, and archives, an accession number is a unique identifier assigned to each object in the collection.
W.590
Do you have additional information?
Related Objects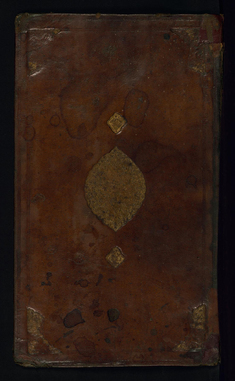 Binding from Glossary of Islamic Legal Terminology
view details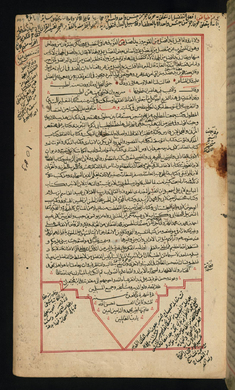 Colophon with Later Notations
view details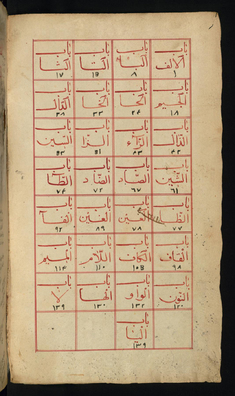 Alphabetical Table of Contents
view details