Medallion with Portraits of Flavius Adaloald, King of Italy, and his Mother Queen Theolinda
This medallion is from a series representing the early kings of Italy, for which see Walters 27.485. There are related reliefs in various European collections. The Lombard Adaloald (602-626) was king of Italy from 616-626, with his mother Queen Theolinda (ca. 570-628) as regent. She was a forceful supporter of Catholicism, building many churches.
Inscription
Provenance

Provenance (from the French provenir, 'to come from/forth') is the chronology of the ownership, custody, or location of a historical object.
Henry Walters, Baltimore [date and mode of acquisition unknown]; Walters Art Museum, 1931, by bequest.
Geographies
Italy (Place of Origin)
Measurements
18 3/8 x 13 3/8 in. (46.7 x 34 cm) approx.
Credit Line
Acquired by Henry Walters
Accession Number

In libraries, galleries, museums, and archives, an accession number is a unique identifier assigned to each object in the collection.
27.487
Do you have additional information?
Related Objects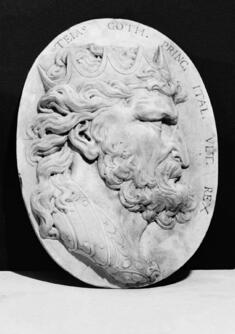 Medallion with Portrait of Teias, the Last Ostrogoth King of Italy
18th century (18th century)
view details