Medallion with Portrait of Teias, the Last Ostrogoth King of Italy
18th century (18th century)
Teias was the last of the Ostrogoth military rulers of Italy. He was defeated by an army from Byzantium in 552 or 553. This idealized relief portrait is from a series of portraits of the early kings of Italy (Walters 27.483-488). There are related relief in various European collections. Owners of great palaces, especially ones whose wealth was based on new money, wanted to associate images of power from the past, not only from Roman history but also the local kings who achieved regional power in the early Middle Ages. Bonazza, who worked in Venice and Padua, has here created a pattern of light and shadow that makes the faces legible from a distance, important because these medallion portraits were probably intended to be installedon the upper walls of a courtyard. The title is a translation of the Latin inscription.
Inscription
Provenance

Provenance (from the French provenir, 'to come from/forth') is the chronology of the ownership, custody, or location of a historical object.
Henry Walters, Baltimore [date and mode of acquisition unknown]; Walters Art Museum, 1931, by bequest.
Geographies
Italy (Place of Origin)
Measurements
18 3/8 x 13 3/8 in. (46.7 x 34 cm)
Credit Line
Acquired by Henry Walters
Accession Number

In libraries, galleries, museums, and archives, an accession number is a unique identifier assigned to each object in the collection.
27.485
Do you have additional information?
Related Objects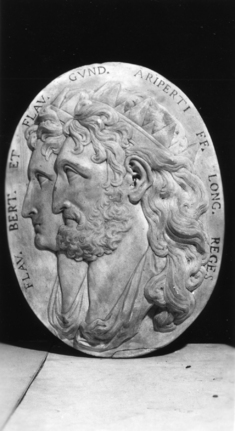 Medallion of Peretarit (or Berthari) and Godepert, Kings of Lombardy
18th century (18th century)
view details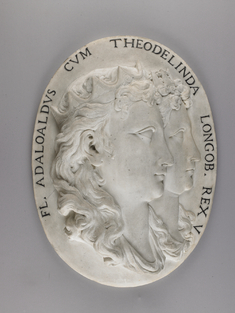 Medallion with Portraits of Flavius Adaloald, King of Italy, and his Mother Queen Theolinda
view details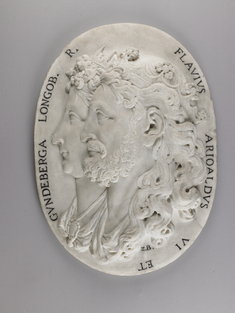 Medallion with Portraits of Flavius Arioald, Lombard King of Italy and his Wife Gundiberga
view details