Madonna and Child with St. Michael and Other Saints
This monumental and intact polyptych (multi-paneled altarpiece), which is now unfortunately badly damaged, is one of the earliest known altarpieces by Antonio Vivarini, head of one of the most important family-run painting workshops in 15th-century Venice. Antonio worked alongside his brother-in-law Giovanni d'Alemagna (see Walters 37.693) and brother Bartolomeo (see Walters 37.1218); his workshop was eventually inherited by his son, Alvise (see Walters 37.535).
The polyptych's lower level is occupied at the center by the Archangel Michael. Clad in armor, Michael is shown as a divine protector, defending a pair of human souls, which he holds in a scale, while brandishing his sword against Satan, represented as a half-human-half-lizard crushed beneath his feet. Flanking Michael are (left to right) an unidentifiable bishop saint, a deacon saint (Lawrence or Stephen?), another unidentified bishop, and Saint Julian, shown as a young knight with a martyr's palm and sheathed sword. In the upper level the Madonna and Child are shown at half-length and surrounded by the four authors of the New Testament: Matthew, Mark, Luke and John.
The polyptych's original location is not known but the prominence accorded to Saint Michael suggests it comes from a church dedicated to him. The elongated forms, sweet faces, extensive use of gold, and originally bright colors (now masked by an old varnish which has yellowed with age as well as the serious damage to the central panel) are typical traits of Antonio Vivarini as well as this early period of Venetian Renaissance painting.
Provenance

Provenance (from the French provenir, 'to come from/forth') is the chronology of the ownership, custody, or location of a historical object.
Dr. and Mrs. Henry Barton Jacobs, Baltimore, 1916 [mode of acquisition unknown]; Henry Barton Jacobs Sale, S. W. Pattison & Co. and Parke-Bernet Galleries, Baltimore, December 10-12, 1940, no. 677; Walters Art Museum, 1940, by purchase.
Measurements
H: 80 7/8 x W: 71 1/4 in. (205.5 x 181 cm); Center bottom panel (St. Michael) H: 38 1/2 x W: 19 7/16 x D excluding cradle: 1/4 in. (97.8 x 49.4 x 0.6 cm); Lower row panels (Four Saints), each H: 35 11/16 x W: 11 x D excluding cradle: 3/8 in. (90.7 x 28 x 1 cm); Center top panel (Madonna and Child) H: 22 13/16 x W: 19 3/8 x D excluding cradle: 1/4 in. (57.9 x 49.2 x 0.6 cm); Top row panels (Four Evangelists), each H: 18 7/8 x W: 10 15/16 x D excluding cradle: 3/8 in. (47.9 x 27.8 x 1 cm)
Credit Line
Museum purchase, 1940
Location in Museum
Not on view
Accession Number

In libraries, galleries, museums, and archives, an accession number is a unique identifier assigned to each object in the collection.
37.1691
Do you have additional information?
Related Objects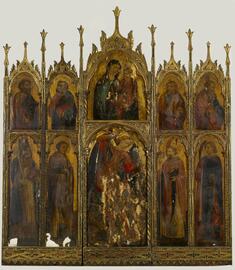 Proper Right Wing of Madonna and Child with St. Michael and Other Saints
view details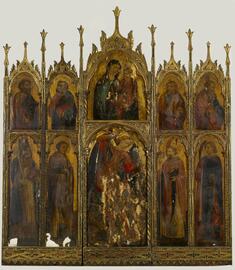 Proper Left Panel of Madonna and Child with St. Michael and Other Saints
view details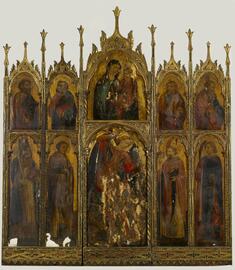 Center Panel of Madonna and Child with St. Michael and Other Saints
view details