arrow_forward_ios

arrow_forward_ios
Cabinet with Allegorical Figures of the Seasons
Made in the court of Louis XIII (1610-1643), cabinets such as this combine elements of Italian decoration and Flemish furniture making. Classical and mythological elements were significant during his epoch, giving furniture of this period classical motifs. Many cabinets were imported into France from Italy in large numbers during the 17th century and played a large role in developing the style of French cabinet makers. For another fine example of French cabinetry at the Walters Art Museum see 65.19.
Provenance

Provenance (from the French provenir, 'to come from/forth') is the chronology of the ownership, custody, or location of a historical object.
Gaillard [date and mode of acquistion unknown]; Gaillard Sale, Paris, June 8, 1904, no. 52; Henry Walters, Baltimore [date and mode of acquisition unknown]; Walters Art Museum, 1931, by bequest.
Exhibitions
| | |
| --- | --- |
| 1998-2001 | Highlights from the Collection. The Walters Art Gallery, Baltimore. |
Measurements
H: 88 3/8 x W: 46 1/4 x D: 19 1/8 in. (224.5 x 117.5 x 48.5 cm)
Credit Line
Acquired by Henry Walters
Accession Number

In libraries, galleries, museums, and archives, an accession number is a unique identifier assigned to each object in the collection.
65.1
Do you have additional information?
Related Objects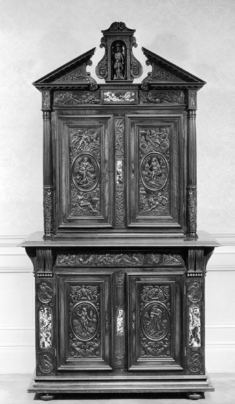 Bottom Section of Cabinet with Allegorical Figures of the Seasons
view details