Medallion with Portraits of Flavius Arioald, Lombard King of Italy and his Wife Gundiberga
From a series (Walters 27.483-88, for which see 27.485). Flavius Arioald was Lombard king of Italy from 626-636. He didn't accept Catholocism and reestablsihed Ariansim.
Inscription
Provenance

Provenance (from the French provenir, 'to come from/forth') is the chronology of the ownership, custody, or location of a historical object.
Henry Walters, Baltimore [date and mode of acquisition unknown]; Walters Art Museum, 1931, by bequest.
Geographies
Italy (Place of Origin)
Measurements
18 3/8 x 13 3/8 in. (46.7 x 34 cm) approx.
Credit Line
Acquired by Henry Walters
Accession Number

In libraries, galleries, museums, and archives, an accession number is a unique identifier assigned to each object in the collection.
27.488
Do you have additional information?
Related Objects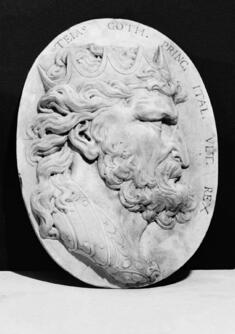 Medallion with Portrait of Teias, the Last Ostrogoth King of Italy
18th century (18th century)
view details