arrow_forward_ios

arrow_forward_ios
Allegorical Groups Representing the Four Parts of the World: Africa
ca. 1710-1725 (Late Baroque)
Very little is known about Francesco Bertos, a highly original artist who created a considerable number of complicated pyramidal groups in a very distinctive, ingenious style that mirrors the lightness and airiness of contemporary rococo painting in France.
These four groups (Walters 54.659, 54.657, 54.660, and 54.658) are allegories (symbolic representations) of the four parts of which the world was then thought to consist. All have their names engraved. In the allegory of Africa, the continent is represented by graceful, ightly-dressed inhabitants who gather grain, in reference to the great importance of parts of north Africa as a source of grain for Europe from the time of the Roman Empire into early modern times. The lion and a snake were traditional attributes of the savage aspects of Africa that both terrified and thrilled Europeans. See further 54.657.
Provenance

Provenance (from the French provenir, 'to come from/forth') is the chronology of the ownership, custody, or location of a historical object.
Spiradon, Paris; Jacques Seligmann and Co., Inc., New York, Sale, February 17, 1917; Henry Walters, Baltimore, 1917, by purchase; Walters Art Museum, 1931, by bequest.
Conservation
| Date | Description | Narrative |
| --- | --- | --- |
| 7/15/1974 | Treatment | cleaned; examined for condition |
Geographies
Italy, Padua (Place of Origin) Italy, Venice (Place of Origin)

Measurements
H: 25 3/8 × W: 18 1/8 × D: 12 7/8 in. (64.5 × 46 × 32.7 cm)
Credit Line
Acquired by Henry Walters, 1917
Accession Number

In libraries, galleries, museums, and archives, an accession number is a unique identifier assigned to each object in the collection.
54.658
Do you have additional information?
Related Objects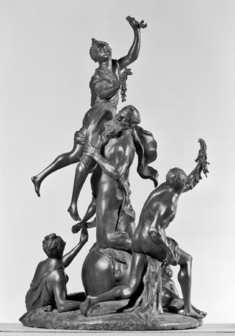 Allegorical Groupings Representing the Four Parts of the World: Asia
ca. 1710-1725 (Late baroque)
view details