arrow_forward_ios

arrow_forward_ios
Wine Vessel (Gu)
12th-11th century BCE (Shang dynasty)
The gu (wine vessel) was one of the forms cast in bronze for ritual purposes during the Bronze Age (ca. 1600–300 BCE). Used to hold wine, it stood on a ritual altar as part of an ensemble including other bronze vessel shapes.
Provenance

Provenance (from the French provenir, 'to come from/forth') is the chronology of the ownership, custody, or location of a historical object.
Henry Walters, Baltimore [date and mode of acquisition unknown]; Walters Art Museum, 1931, by bequest.
Conservation
| Date | Description | Narrative |
| --- | --- | --- |
| 5/6/1970 | Examination | examined for condition |
Geographies
China (Place of Origin)
Measurements
H: 11 11/16 x Diam: 6 11/16 in. (29.7 x 17 cm)
Credit Line
Acquired by Henry Walters, before 1931
Accession Number

In libraries, galleries, museums, and archives, an accession number is a unique identifier assigned to each object in the collection.
54.2183
Do you have additional information?
Related Objects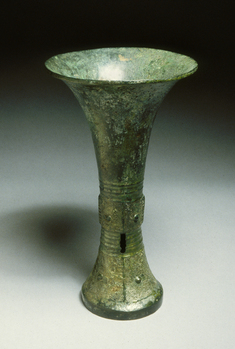 Wine Beaker ("Ku")
13th-12th century BC (Han dynasty)
view details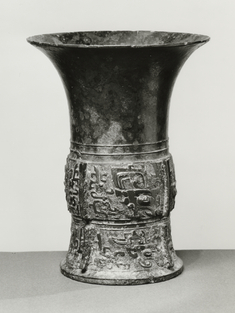 view details