arrow_forward_ios

arrow_forward_ios
Wine Beaker ("Ku")
13th-12th century BC (Han dynasty)
Cast with designs in wire-like relief.
Provenance

Provenance (from the French provenir, 'to come from/forth') is the chronology of the ownership, custody, or location of a historical object.
Yamanaka Sale, Collection of a Chinese nobleman from Tientsin, American Art Association, January 29, 1914, no. 110; Henry Walters, Baltimore, 1914, by purchase; Walters Art Museum, 1931, by bequest.
Geographies
China (Place of Origin)
Measurements
8 3/4 in. (22.2 cm)
Credit Line
Acquired by Henry Walters, 1914
Location in Museum
Not on view
Accession Number

In libraries, galleries, museums, and archives, an accession number is a unique identifier assigned to each object in the collection.
54.1237
Do you have additional information?
Related Objects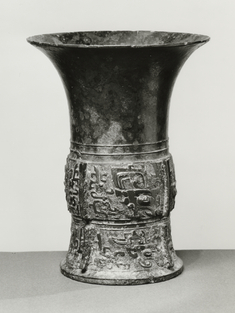 view details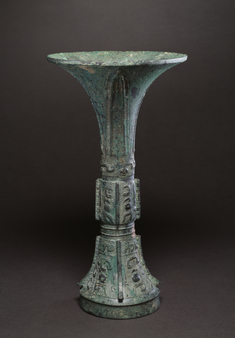 Wine Vessel (Gu)
12th-11th century BCE (Shang dynasty)
view details