arrow_forward_ios

arrow_forward_ios
Hercules
Roman copy: 1st century BCE-1st century CE; Greek original: 3rd century BCE (Roman Imperial)
This marble statuette depicts a heavy-set Herakles in a rare moment of quiet. His shoulders are covered with a drooping lion skin that offers a visual contrast to Herakles' fully muscled body. He may have originally held a club. Herakles is bearded, his curly hair and beard are reminiscent of the lion's mane. This representation of Herakles is known from several examples, including a bronze version in the Walters Art Museum (54.764).
Both of the Walters' pieces are likely modeled on a famous Hellenistic statue of the hero as a wayfarer. Euripides' play "Alkestis" depicts just such a Herakles, who appears as a traveler and unannounced guest at the home of Admetos, whose wife, Alkestis, has just died. In the drama, the hero is initially unaware of the tragedy unfolding around him. Oblivious to his host's suffering, he advocates drinking wine to ease life's difficulties, revealing a less noble side of the hero. Once he finally recognizes the plight of the family, he reverts to his heroic self and succeeds in bringing Alkestis back to life. Unlike so many depictions of Herakles, this statuette captures the hero in a moment of rest, rather than at the height of a challenge. The bulk of his body, his mature appearance, and his relaxed pose suggest that this is the hero later in life, well after the period of his famed labors.
Provenance

Provenance (from the French provenir, 'to come from/forth') is the chronology of the ownership, custody, or location of a historical object.
Henry Walters, Baltimore [date and mode of acquisition unknown]; Walters Art Museum, 1931, by bequest.
Exhibitions
| | |
| --- | --- |
| 1962 | The Arts of Man. Dallas Museum of Art, Dallas. |
Conservation
| Date | Description | Narrative |
| --- | --- | --- |
| 1/1/1992 | Technical Report | x-ray diffraction; other |
| 1/1/2001 | Treatment | cleaned |
| 1/24/2001 | Treatment | cleaned; loss compensation; mounted |
Measurements
18 1/2 x 9 13/16 x 5 7/8 in. (47 x 25 x 15 cm)
Credit Line
Acquired by Henry Walters
Accession Number

In libraries, galleries, museums, and archives, an accession number is a unique identifier assigned to each object in the collection.
23.74
Do you have additional information?
Related Objects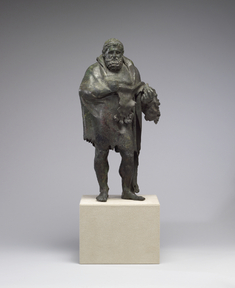 Aged Herakles
Roman copy: 1st century BCE-1st century CE; Greek original: 3rd century BCE (Hellenistic-Roman Imperial)
view details