Scarab with a Centaur and Two Lions Set in a Swivel Ring
6th century BCE (Archaic)
This scarab bears an image of a centaur facing the right with a raised arm holding a club carved in intaglio. On the right are one complete lion with its head turned back and the foreparts of a second lion. A line border surrounds the image. The parts of the scarab's back are carefully articulated. Most Archaic Greek gems were carved in the form of a scarab beetle. The type is ultimately of Egyptian origin and is thought to have passed to the Greeks via the Phoenicians probably on the island of Cyprus, which served as a crossroads for the eastern Mediterranean. The intaglio design and careful articulation of the beetle suggest a date in the early 6th century BCE.
Provenance

Provenance (from the French provenir, 'to come from/forth') is the chronology of the ownership, custody, or location of a historical object.
Charles Newton-Robinson, London, by 1909 [mode of acquisition unknown]; Collection of Newton-Robinson Sale, Christie, Manson & Woods, London, June 22, 1909, lot 14 [as from Idalion, Cyprus]; Dikran Kelekian, New York and Paris, 1909, by purchase; Henry Walters, Baltimore, 1909, by purchase; Walters Art Museum, 1931, by bequest.
Exhibitions
| | |
| --- | --- |
| 1979-1980 | Jewelry - Ancient to Modern. The Walters Art Gallery, Baltimore. |
Conservation
| Date | Description | Narrative |
| --- | --- | --- |
| 8/22/1960 | Examination | other |
Measurements
H: 11/16 x Diam: 13/16 in. (1.75 x 2.06 cm)
Credit Line
Acquired by Henry Walters, 1909
Location in Museum
Not on view
Accession Number

In libraries, galleries, museums, and archives, an accession number is a unique identifier assigned to each object in the collection.
42.157
Do you have additional information?
Related Objects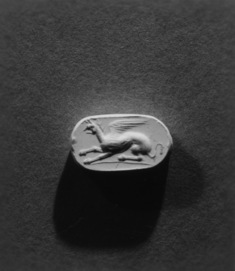 Scarab or Scaraboid Intaglio with a Griffin Set in a Swivel Ring
5th century BCE (Late Archaic-Classical)
view details