"Surtout de table": Python Killing a Gnu
Barye was fascinated by large snakes and portrayed them in sculptures and paintings. Two Javanese pythons were sent to the Jardin des Plantes in 1838. In this sculpture, a python has entwined itself around the body of a gnu, an African antelope also known as a wildebeest. This sculpture is one of four animal combats that originally stood at the base of the triumphal arch supporting the "Tiger Hunt." Two of the other combats, "Eagle Attacking a Wounded Ibex" and "Lion Attacking a Boar," are now in the Louvre Museum; the fourth, "Tiger Devouring a Large Antelope," belongs to the Detroit Institute of Arts.
Inscription
Provenance

Provenance (from the French provenir, 'to come from/forth') is the chronology of the ownership, custody, or location of a historical object.
Duc d'Orléans, 1834, by commission; duchesse d'Orléans Sale, Paris, January 18-20, 1853, no. 2; Alphonse de Hautpoul; Maurice Mallet; Henry Walters, Baltimore, November 19, 1906, by purchase [George A. Lucas as agent]; Walters Art Museum, 1931, by bequest.
Exhibitions
| | |
| --- | --- |
| 2007-2008 | Untamed: The Art of Antoine-Louis Barye. The Walters Art Museum, Baltimore; Philbrook Museum of Art, Tulsa; The Henry Morrison Flagler Museum, Palm Beach. |
| 1991 | Un âge d'or des arts décoratifs: 1814-1848. Galeries nationales du Grand Palais, Paris. 1991. |
| 1980-1981 | The Romantics to Rodin: French Nineteenth Century Sculpture from North American Collections. Los Angeles County Museum of Art, Los Angeles; Minneapolis Institute of Art, Minneapolis; The Detroit Institute of Arts, Detroit; Indianapolis Museum of Art, Indianapolis. |
Conservation
| Date | Description | Narrative |
| --- | --- | --- |
| 10/15/1974 | Treatment | other |
| 12/12/1979 | Examination | examined for loan |
Measurements
8 1/2 x 11 1/2 x 9 1/2 in. (21.6 x 29.2 x 24.1 cm)
Credit Line
Acquired by Henry Walters, 1906
Location in Museum
Not on view
Accession Number

In libraries, galleries, museums, and archives, an accession number is a unique identifier assigned to each object in the collection.
27.152
Do you have additional information?
Related Objects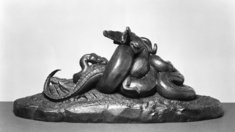 Python Killing a Crocodile
view details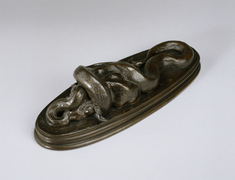 Python Swallowing a Doe (First Version)
view details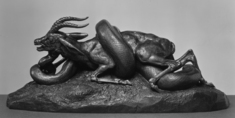 view details