arrow_forward_ios

arrow_forward_ios
One of a Pair of Vases (Vase cassolette Bachelier)
This vase (one of a pair) is turquoise blue ("bleu céleste") and shows a scene of soldiers resting by a campfire on one side, painted in the manner of P. Wouwermans (1619-1668) by Charles Nicolas Dodin, and military trophies on the other. The gilding is by Etienne-Henry Le Guay. The handles terminate in a relief leaves which travel down the underside of the vase, ancored by cubic forms at the rim. The shoulders have painted panels in a fan-shape with rosettes in pink divided by a gilt trellis. The vase sits on a rectangular plinth, and is topped with a berry knop. The Bearsted Collection in England has a similar pair with marine scenes.
Inscription
Provenance

Provenance (from the French provenir, 'to come from/forth') is the chronology of the ownership, custody, or location of a historical object.
Earl of Pembroke; Earl of Pembroke Collection Sale, May 8, 1851, lot 383; Mrs. Lyne Stephes [date and mode of acquisition unknown]; Baron Schroeder [date and mode of acquisition unknown]; Baron Schroder Sale, Christie's, July 5, 1910, lots 45 and 46; E. M. Hodgkins Collection, Paris, no. 64 [date and mode of acquisition unknown]; A. Seligmann, Rey and Co., New York; Henry Walters, Baltimore, 1928, by purchase; Walters Art Museum, 1931, by bequest.
Conservation
| Date | Description | Narrative |
| --- | --- | --- |
| 5/7/1959 | Treatment | repaired; loss compensation |
Measurements
H: 8 × W: 9 3/4 in. (20.32 × 24.77 cm)
Credit Line
Acquired by Henry Walters
Accession Number

In libraries, galleries, museums, and archives, an accession number is a unique identifier assigned to each object in the collection.
48.564
Do you have additional information?
Related Objects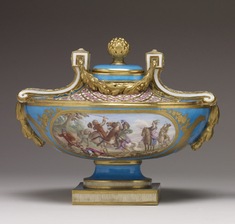 One of a Pair of Vases (Vase cassolette Bachelier)
view details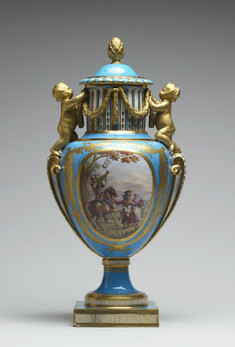 Vase (Vase colonne de Paris)
view details