arrow_forward_ios

arrow_forward_ios
Canopic Jar with Baboon Head
7th century BCE (Late Period)
limestone, paint

During mummification, the internal organs of the deceased were removed from the body and placed in a set of four special containers, the so-called canopic jars. The lids of the jars depicted the heads of a hawk, a human, a jackal, and a baboon, each associated with one of the four "Sons of Horus," the deities responsible for protecting the organs. Baboon-headed Hapi was responsible for the lungs.
Provenance

Provenance (from the French provenir, 'to come from/forth') is the chronology of the ownership, custody, or location of a historical object.
Dikran Kelekian, New York and Paris [date and mode of acquisition unknown] [said to be from Luxor]; Henry Walters, Baltimore, 1925, by purchase; Walters Art Museum, 1931, by bequest.
Measurements
Overall: 9 13/16 x 5 1/4 in. (25 x 13.3 cm)
Credit Line
Acquired by Henry Walters, 1925
Location in Museum
Not on view
Accession Number

In libraries, galleries, museums, and archives, an accession number is a unique identifier assigned to each object in the collection.
41.89
Do you have additional information?
Related Objects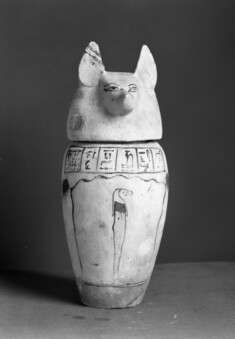 Canopic Jar with Jackal Head
7th century BCE (Late Period)
view details