arrow_forward_ios

arrow_forward_ios
Canopic Jar
ca. 670-640 BCE (Late Period)
During mummification, the internal organs of the deceased were removed from the body and placed in a set of four special containers, the so-called canopic jars. A complete set is exhibited in the Egyptian galleries. The lids of the jars depicted the heads of a hawk, a human, a jackal, and a baboon, each associated with one of the four "Sons of Horus," the deities responsible for protecting the organs. Responsible for the liver was the human-headed Imsety, while the hawk-headed Qebehsenuef protected the intestines.
Provenance

Provenance (from the French provenir, 'to come from/forth') is the chronology of the ownership, custody, or location of a historical object.
Dikran Kelekian, Paris and New York [date and mode of acquisition unknown]; Henry Walters, Baltimore, 1925, by purchase; Walters Art Museum, 1931, by bequest.
Geographies
Egypt (Place of Origin)
Measurements
H: 9 13/16 x W: 5 3/16 in. (25 x 13.2 cm)
Credit Line
Acquired by Henry Walters, 1925
Accession Number

In libraries, galleries, museums, and archives, an accession number is a unique identifier assigned to each object in the collection.
41.90
Do you have additional information?
Related Objects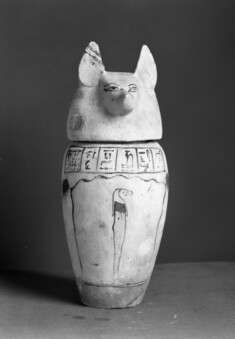 Canopic Jar with Jackal Head
7th century BCE (Late Period)
view details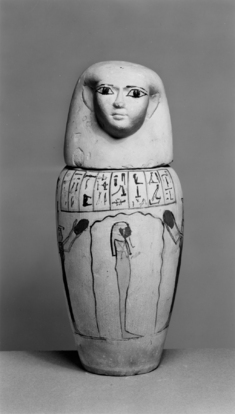 Canopic Jar
ca. 670-640 BCE (Late Period)
view details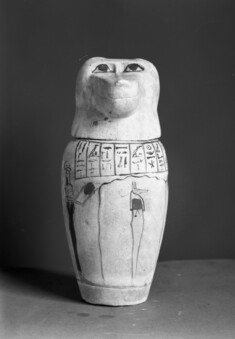 Canopic Jar with Baboon Head
7th century BCE (Late Period)
view details