Mastiffs and the Head of a Wild Boar
With more sketches of wild boars on the reverse.
Provenance

Provenance (from the French provenir, 'to come from/forth') is the chronology of the ownership, custody, or location of a historical object.
Vildieu-Barye Collection; Fabius Frères, Paris [date and mode of acquisition unknown]; Walters Art Museum, 1949, by purchase.
Measurements
H: 3 15/16 x W: 5 11/16 in. (10 x 14.5 cm)
Credit Line
Museum purchase, 1949
Location in Museum
Not on view
Accession Number

In libraries, galleries, museums, and archives, an accession number is a unique identifier assigned to each object in the collection.
37.2033
Do you have additional information?
Related Objects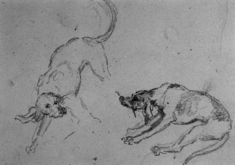 view details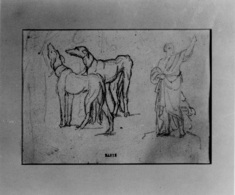 Two greyhounds,man in classical dress(a)
view details