Single Leaf of Shah Sarmad and Prince Dara Shikoh
12th century AH/AD 18th century (Mughal)
According to inscriptions written in Nasta'liq script, this painting, Walters manuscript leaf W.912, depicts the Mughal prince Dara Shikoh (born 1024 AH/AD 1615) and the holy man Shah Sarma seated under a tree. Behind the wise man stands an attendant with a peacock-feather fan. A celebrated scholar, sufi, and ruler, Dara Shikoh was the eldest son of Shah Jahan. On the back is a page of calligraphy signed with the epithet Jawahir raqam. There are wide polychrome and illuminated borders on both sides of the leaf.
Provenance

Provenance (from the French provenir, 'to come from/forth') is the chronology of the ownership, custody, or location of a historical object.
John and Berthe Ford, Baltimore [date and mode of acquisition unknown]; Walters Art Museum, 2002, by gift.
Conservation
| Date | Description | Narrative |
| --- | --- | --- |
| 6/6/2017 | Examination | examined for exhibition |
Geographies
India (Place of Origin)
Measurements
H: 17 1/8 × W: 9 9/16 in. (43.5 × 24.3 cm); Image H: 7 7/8 x W: 5 1/2 in. (20 x 14 cm); Framed H: 26 1/4 × W: 21 3/4 × D: 1 1/2 in. (66.68 × 55.25 × 3.81 cm)
Credit Line
Gift of John and Berthe Ford, 2002
Location in Museum
Not on view
Accession Number

In libraries, galleries, museums, and archives, an accession number is a unique identifier assigned to each object in the collection.
W.912
Do you have additional information?
Related Objects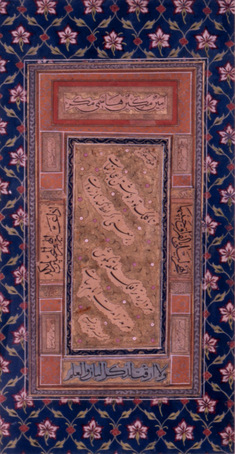 Calligraphy Page
12th century AH/AD 18th century (Mughal)
view details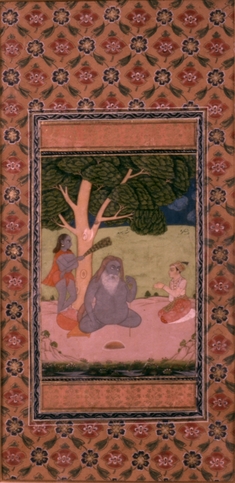 Shah Sarmad and Prince Dara Shikoh
12th century AH/AD 18th century (Mughal)
view details