arrow_forward_ios

arrow_forward_ios
Calligraphy Page
12th century AH/AD 18th century (Mughal)
This calligraphy page, Walters manuscript leaf W.912, is signed with the epithet Jawahir raqam.
Provenance

Provenance (from the French provenir, 'to come from/forth') is the chronology of the ownership, custody, or location of a historical object.
John and Berthe Ford, Baltimore [date and mode of acquisition unknown]; Walters Art Museum, 2002, by gift.
Geographies
India (Place of Origin)
Measurements
H: 17 1/8 x W: 9 9/16 in. (43.5 x 24.3 cm)
Credit Line
Gift of John and Berthe Ford, 2002
Location in Museum
Not on view
Accession Number

In libraries, galleries, museums, and archives, an accession number is a unique identifier assigned to each object in the collection.
W.912.B
Do you have additional information?
Parent Object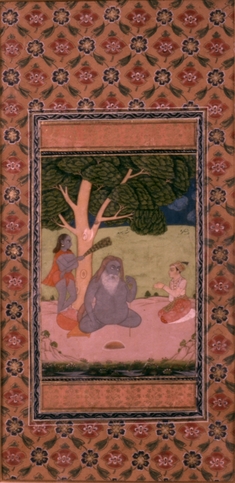 Single Leaf of Shah Sarmad and Prince Dara Shikoh
12th century AH/AD 18th century (Mughal)
view details