arrow_forward_ios

arrow_forward_ios
Statue of Tef-ib
ca. 1980 BCE (Middle Kingdom)
Tombs sometimes contained more than one statue representing the owner. The statues were usually inscribed with the owner's name and titles, and they served as a focus for funerary rituals. These examples, belonging to a man named Tef-ib, are unusual in that they represent the tomb owner while also bearing inscriptions referring to the four sons of Horus, who protected the internal organs of the deceased. These deities were also identified with the north, south, east, and west, and the statues may have been placed in the tomb in accordance with these directions. The differing facial features of these statues (including Walters 22.10, 22.11, 22.12) suggest that they were made by more than one artist. Notice as well, the sizes of the four figures differ as well as their wigs.
Inscription
Provenance

Provenance (from the French provenir, 'to come from/forth') is the chronology of the ownership, custody, or location of a historical object.
Dikran Kelekian, New York and Paris, [date and mode of acquisition unknown]; Henry Walters, Baltimore, 1922, by purchase; Walters Art Museum, 1931, by bequest.
Conservation
| Date | Description | Narrative |
| --- | --- | --- |
| 1/1/1943 | Treatment | repaired |
| 1/1/1998 | Examination | survey |
| 7/31/1998 | Examination | survey |
Measurements
10 7/16 x 2 1/8 x 5 9/16 in. (26.5 x 5.5 x 14.1 cm)
Credit Line
Acquired by Henry Walters, 1922
Accession Number

In libraries, galleries, museums, and archives, an accession number is a unique identifier assigned to each object in the collection.
22.13
Do you have additional information?
Related Objects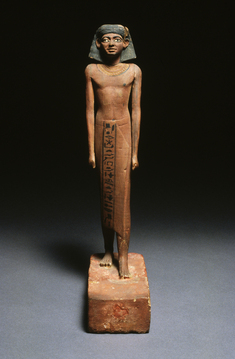 Statue of Tef-ib
ca. 1980 BCE (Middle Kingdom)
view details