arrow_forward_ios

arrow_forward_ios
Book of Hours
Manuscript: 4th quarter 15th century; Binding: late 19th century
This Book of Hours was completed for the use in Rouen in the last quarter of the fifteenth century. The original female owner is depicted in a donor portrait kneeling at the right of Pietà on the last illuminated page of the book (fol. 114r). Marked prominence is given to this female worshiper as her scale exceeds that of the Virgin as well as Sts. John the Evangelist and Mary Magdalene. The Pentecost miniature on fol. 74r exemplifies the current interest in replacing the traditional central perspective with a diagonally conceived composition. This off-center orientation highlighting St. Peter rather than the Virgin was a popular topos in contemporary Rouen Hours.
Inscription
Provenance

Provenance (from the French provenir, 'to come from/forth') is the chronology of the ownership, custody, or location of a historical object.
Unidentified female owner, Rouen, France, ca. 1480-1490 (?) [1]. Maucourt, Montigny, 1725 [2]. Leo S. Olschki, Florence, late 19-early 20th century [3]; purchased by Henry Walters, Baltimore; by bequest to Walters Art Museum, 1931.
[1] Depicted on fol. 114r, likely first owner
[2] Fol. 124v: MAVCOVRT / 1725 / amontigny
[3] Inscribed on front flyleaf i, v: 'x' and '566'; note below by Olschki concerning decoration; date penciled over partly erased earlier notation
Exhibitions
| | |
| --- | --- |
| 2016-2017 | A Feast for the Senses: Art and Experience in Medieval Europe. The Walters Art Museum, Baltimore; The John and Mable Ringling Museum of Art, Sarasota. |
| 1991 | Plants and Flowers in Medieval Manuscripts. The Walters Art Gallery, Baltimore. |
| 1988-1989 | Making Music in Medieval Manuscripts. The Walters Art Gallery, Baltimore. |
Conservation
| Date | Description | Narrative |
| --- | --- | --- |
| 6/7/1977 | Examination | examined for condition |
| 10/7/2015 | Treatment | examined for digitization; examined for exhibition; media consolidation; stabilized |
Measurements
Folio H: 6 3/8 × W: 4 7/16 in. (16.2 × 11.2 cm)
Credit Line
Acquired by Henry Walters
Location in Museum
Not on view
Accession Number

In libraries, galleries, museums, and archives, an accession number is a unique identifier assigned to each object in the collection.
W.225
Do you have additional information?
Related Objects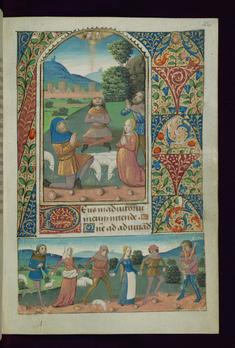 Leaf from Book of Hours: Annunciation to Shepherds and Shepherdess
view details