Teranishi Kanshin in kago is carried across river, Nakano Tobei fights on bank
Ca. 1847-48 (late Edo)
Mulberry paper, pigments

Nakano Tobei is fighting on the bank, Teranishi Kanshin is carried across river on a kago (palanquin)
Inscription
Provenance

Provenance (from the French provenir, 'to come from/forth') is the chronology of the ownership, custody, or location of a historical object.
Justine Lewis Keidel
Geographies
Edo (Place of Origin)
Measurements
Overall: 14 3/8 x 19 1/2 in. (36.5 x 49.5 cm)
Credit Line
Gift of Justine Lewis Keidel, 1986
Location in Museum
Not on view
Accession Number

In libraries, galleries, museums, and archives, an accession number is a unique identifier assigned to each object in the collection.
95.183A
Do you have additional information?
Related Objects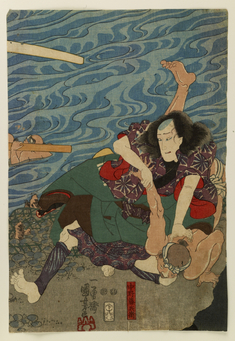 Teranishi Kanshin in kago is carried across river, Nakano Tobei fights on bank
view details