arrow_forward_ios

arrow_forward_ios
Illuminated Incipit Page with Titlepiece
12th century AH/AD 18th century
This illuminated incipit page from Walters manuscript W.580 includes a titlepiece framed by gold trefoils and vertical bars of gold strapwork, with a marginal rosette at the right.
Provenance

Provenance (from the French provenir, 'to come from/forth') is the chronology of the ownership, custody, or location of a historical object.
Henry Walters, Baltimore [date and mode of acquisition unknown]; Walters Art Museum, 1931, by bequest.
Exhibitions
| | |
| --- | --- |
| 2007 | Speaking the Word of God: Illuminated Korans from the Walters Art Museum. The Walters Art Museum, Baltimore. |
Geographies
Maghreb (Place of Origin)
Measurements
H: 10 5/8 x W: 7 7/8 in. (27.0 x 20.0 cm)
Credit Line
Acquired by Henry Walters
Location in Museum
Not on view
Accession Number

In libraries, galleries, museums, and archives, an accession number is a unique identifier assigned to each object in the collection.
W.580.3B
Do you have additional information?
Parent Object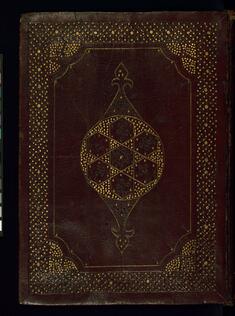 Work on the Duties of Muslims Towards the Prophet Muhammad with an Account of His Life
12th century AH/AD 18th century
view details