arrow_forward_ios

arrow_forward_ios
Saint Francis of Assisi
ca. 1499-1500 (Renaissance)
Saint Francis of Assisi, the founder of the Franciscan order, is depicted with the stigmata (wounds similar to those of Christ in the hands, feet, and side), which he received during a vision towards the end of his life. Rose petals are scattered across the floor.
For more information on these panels, please see Federico Zeri's 1976 catalogue no. 186, pp. 275-277.
Provenance

Provenance (from the French provenir, 'to come from/forth') is the chronology of the ownership, custody, or location of a historical object.
Henry Walters, Baltimore, prior to 1922 [mode of acquisition unknown]; Walters Art Museum, 1931, by bequest.
Conservation
| Date | Description | Narrative |
| --- | --- | --- |
| 7/26/1938 | Treatment | coated; examined for exhibition; inpainted; repaired; varnish removed or reduced |
Measurements
H including insert at top: 52 3/8 x W: 21 1/4 x D: 15/16 in. (133 x 54 x 2.4 cm)
Credit Line
Acquired by Henry Walters, before 1922
Accession Number

In libraries, galleries, museums, and archives, an accession number is a unique identifier assigned to each object in the collection.
37.531A
Do you have additional information?
Related Objects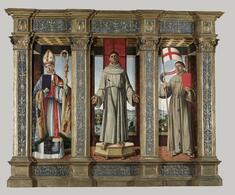 Saint Louis of Toulouse, Saint Francis, and the Blessed John Capistrano
ca. 1499-1500 (Renaissance)
view details