arrow_forward_ios

arrow_forward_ios
The Blessed John Capistrano
ca. 1499-1500 (Renaissance)
This triptych (an altarpiece with three panels) of three Franciscan holy men was probably placed on the high altar of a Franciscan church. Depicted as if bathed in natural light, the architectural setting with the three saints opens up to a serene landscape. Inside the church, this illusionistic opening would have given the painting the character of a divine vision. Rose petals are scattered across the floor.
For more information on these panels, please see Federico Zeri's 1976 catalogue no. 186, pp. 275-277.
Provenance

Provenance (from the French provenir, 'to come from/forth') is the chronology of the ownership, custody, or location of a historical object.
Henry Walters, Baltimore, prior to 1922 [mode of acquisition unknown]; Walters Art Museum, 1931, by bequest.
Conservation
| Date | Description | Narrative |
| --- | --- | --- |
| 8/8/1969 | Treatment | coated; examined for condition; examined for exhibition; media consolidation; repaired |
Measurements
H including inserts at top and bottom: 52 3/8 x W: 16 9/16 x D: 13/16 in. (133 x 42 x 2 cm)
Credit Line
Acquired by Henry Walters, before 1922
Accession Number

In libraries, galleries, museums, and archives, an accession number is a unique identifier assigned to each object in the collection.
37.531C
Do you have additional information?
Related Objects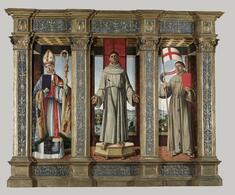 Saint Louis of Toulouse, Saint Francis, and the Blessed John Capistrano
ca. 1499-1500 (Renaissance)
view details