arrow_forward_ios

arrow_forward_ios
Qara Khan, King of Samarqand, Defeated by Mihr
10th century AH/AD 16th century (Safavid)
On the left side of this page from Walters manuscript W.645, Qara Khan, king of Samarqand, is defeated by Mihr, who fights on the side of King Kayvan, Nahid's father.
Provenance

Provenance (from the French provenir, 'to come from/forth') is the chronology of the ownership, custody, or location of a historical object.
'Abduhu Muhammad Kazim [date and mode of acquisition unknown] [oval seal on fol. 113b]; 'Ismat Zinat Sultan, 1249 AH/AD 1833 (?) [mode of acquisition unknown] [square seal dated 12(?)49 AH/AD 1833 on fol. 114a]; Henry Walters, Baltimore [date and mode of acquisition unknown]; Walters Art Museum, 1931, by bequest.
Geographies
Iran (Place of Origin)
Measurements
H: 10 5/8 x W: 6 11/16 in. (27 x 17 cm)
Credit Line
Acquired by Henry Walters
Location in Museum
Not on view
Accession Number

In libraries, galleries, museums, and archives, an accession number is a unique identifier assigned to each object in the collection.
W.645.159A
Do you have additional information?
Parent Object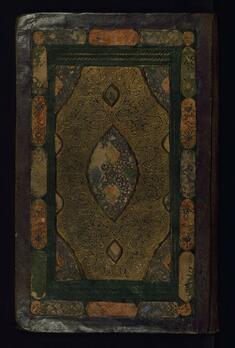 Two Poetical Works: Yusuf and Zulaykha and Mihr and Mushtari
10th century AH/AD 16th century (Safavid)
view details