arrow_forward_ios

arrow_forward_ios
A Battle Scene
Folio: late 10th century AH/AD 16th century; Borders: 13th century AH/AD 19th century (Mughal)
This single leaf of a battle scene, Walters manuscript leaf W.683, comes from an illustrated Baburnamah (Memoirs of Babur) executed in Mughal India during the late 10th century AH/AD 16th. The text, written in black Nasta'liq script, comes from a description of the events of the year 901 AH/AD 1495-1496. It describes how Sayyidim, Quli Baba, and several warriors were unhorsed in battle and how news of their fate reached Sultan Husayn Mirza (died 911 AH/AD 1506). The polychrome borders surrounding this page date to the 13th century AH/AD 19th.
Provenance

Provenance (from the French provenir, 'to come from/forth') is the chronology of the ownership, custody, or location of a historical object.
Henry Walters, Baltimore [date and mode of acquisition unknown]; Walters Art Museum, 1931, by bequest.
Geographies
India (Place of Origin)
Measurements
H: 11 13/16 x W: 9 5/8 in. (30 x 24.5 cm); Image H: 9 1/2 x W: 5 11/16 in. (24.2 x 14.5 cm)
Credit Line
Acquired by Henry Walters
Location in Museum
Not on view
Accession Number

In libraries, galleries, museums, and archives, an accession number is a unique identifier assigned to each object in the collection.
W.683.A
Do you have additional information?
Parent Object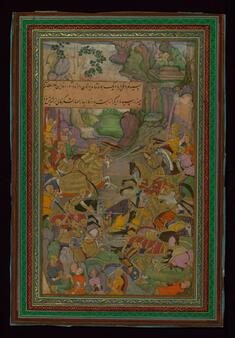 Single Leaf of a Battle Scene from the Baburnamah
Folio: late 10th century AH/AD 16th century; Borders: 13th century AH/AD 19th century (Mughal)
view details