arrow_forward_ios

arrow_forward_ios
Anatomical Figure of a Woman
This figure is part of a "family" of three figures thought to have been made for a physician so that his patients could point to what hurt. The figures were not meant to stand. Their feet are angled as they would be if they were lying down. In the 1600s, people did not take their clothes off for a doctor. A well-bred woman would have blushed even to describe a part of her body, but she could point to it.
Provenance

Provenance (from the French provenir, 'to come from/forth') is the chronology of the ownership, custody, or location of a historical object.
San Giorgi, Rome [date and mode of acquisition unknown]; Henry Walters, Baltimore [date and mode of acquisition unknown]; Walters Art Museum, 1931, by bequest.
Exhibitions
| | |
| --- | --- |
| 2012 | Touch and the Enjoyment of Sculpture: Exploring the Appeal of Renaissance Statuettes. The Walters Art Museum, Baltimore. |
| 1995 | The Allure of Bronze. The Walters Art Gallery, Baltimore. |
Conservation
| Date | Description | Narrative |
| --- | --- | --- |
| 5/4/1970 | Treatment | examined for condition; cleaned |
| 9/10/1974 | Treatment | coated |
Measurements
H: 11 5/8 in. (29.6 cm)
Credit Line
Acquired by Henry Walters
Accession Number

In libraries, galleries, museums, and archives, an accession number is a unique identifier assigned to each object in the collection.
54.317
Do you have additional information?
Related Objects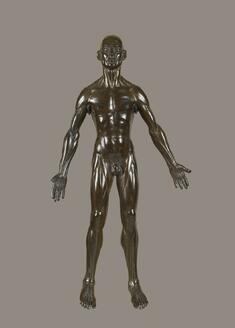 Anatomical Figure of a Man
view details
Anatomical Figure of a Young Boy
view details