Leaf from Album of Persian and Indian Mminiatures, Calligraphy, and European Engravings: Reception at the Court of Shah 'Abbas I
17th-19th century (Mughal; Safavid; Qajar; Zand; Deccan)
This painting shows courtiers of Shah 'Abbas I (r. 1588–1629 CE), one of the great kings of the Persian Safavid dynasty (1501–1732 CE). In 1598, Shah 'Abbas moved the capital from Qazvin to Isfahan, where there was a strong relationship between the city and the extensive royal gardens. Isfahan, and even its surrounding suburbs, were developed as a great garden on an urban scale. The Persian garden was the result of a sophisticated irrigation system that created the city oases of Iran and central Asia.
Provenance

Provenance (from the French provenir, 'to come from/forth') is the chronology of the ownership, custody, or location of a historical object.
Sale, Sotheby's, February 1960; purchased by Walters Art Museum, 1960.
Exhibitions
| | |
| --- | --- |
| 2012 | Paradise Imagined: Images of the Garden in the Islamic and Christian World. The Walters Art Museum, Baltimore. |
Conservation
| Date | Description | Narrative |
| --- | --- | --- |
| 9/8/2016 | Treatment | examined for exhibition; media consolidation |
Geographies
Europe (Place of Origin) India (Place of Origin)

Iran (Place of Origin)
Measurements
H: 14 3/16 x W: 8 1/4 in. (36 x 21 cm)
Credit Line
Museum purchase with funds provided by the S. & A.P. Fund, 1960
Location in Museum
Not on view
Accession Number

In libraries, galleries, museums, and archives, an accession number is a unique identifier assigned to each object in the collection.
W.771.50A
Do you have additional information?
Parent Object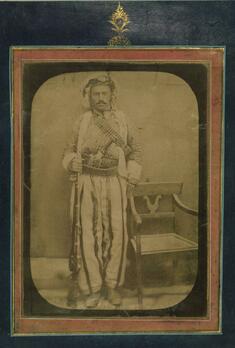 Album of Persian and Indian Miniatures, Calligraphy, and European Engravings
11th century AH/AD 17th century-13th century AH/AD 19th century (Mughal; Safavid; Qajar; Zand; Deccan)
view details