arrow_forward_ios

arrow_forward_ios
The Departure of Helen and her Entourage for Cythera
These three paintings (Walters 37.1178, 37.1179, and 37.1180) depicting the ancient Greek story of the Abduction of Helen of Troy appear to be the only monumental series of 15th-century Italian panel paintings celebrating ancient history that exist today.
The story, undertood as history, not fable in the 1400s, is that Paris, prince of Troy (an ancient city-state in what is now Turkey) took a nap when he was out hunting and had a dream in which Venus, goddess of love, promised him that he would marry the most beautiful woman in the world, Helen, queen of the Greek city-state Sparta. King Priam of Troy wanted vengeance on the Greeks for abducting his sister and, convinced that Paris would be able to abduct a Greek beauty to exchange for his sister, sent Paris to Greece. Paris and some men sailed for Sparta but went ashore on the island of Cythera, dedicated to Venus as goddess of love, and visited the temple of Venus to pay homage to the goddess. he was very goodlooking and somehow gossip to that effect reached Queen Helen. Her husband Menelaus was then away so Helen and her entourage set out on an excursion to Cythera. In the first painting, the courtiers, in elegant Renaissance fashions, marked by brocades, pearls, and fine handkerchiefs, stroll out of the city toward the ship that will take them on this pleasure outing. They are led by a gaily dressed court jester, shaking a tambourine. Jesters played many roles, including the role here as trickster, made clear to contemporaries by the hood with donkey ears. With a trickster as the leader of the revels, this excursion is likely to leave courtly decorum behind! Indeed, on Cythera, Paris and Helen locked eyes..and the rest in history. Paris abducted a willing Helen from in front of the temple (second painting). They sailed to Troy, where Paris's father, King Priam, and his mother, Queen Hecuba, received them as a couple (third painting). The events led to the Trojan War: the Greeks destroyed Troy to get Helen back. Trojans fleeing their burning city were said to have founded European cities such as Rome and Venice.
In the 1400s, large paintings of historical, Old Testament, and mythological subjects sometimes featuring beautiful women were favored for decorating the homes of wealthy Italians. They were often installed at shoulder height and framed to give the impression of views through palace windows or through the columns of a pavilion, creating the illusion of ancient history coming alive before one's eyes.
A key aspect of European Renaissance culture in the 1400s and 1500s involved looking back to pivotal moments of the distant past as touchstones for shaping an understanding of current events. So it is notable that this is the only series of monumental panel paintings on ancient history that exists today, their initial bright colors brought back to life through conservation.
This is also the story of the young Venetian noblewoman Caterina Corner in commemoration of whose 1468 marriage to the king of Cyprus the paintings were surely commissioned for the Corner family palace (renovated in the 1500s) now known as Ca'Corner della Regina ("of the Queen"), on the Grand Canal. The wedding was so important for Venice that Caterina was married as the "daughter of Venice" not as a Corner.
While the idea may be rather disturbing to many, in Quattrocento Italy, the abduction of Helen was considered a good subject for celebrating a wedding as it would be a great compliment to the bride to be so physically attractive as to precipitate violence.
Inscription
Provenance

Provenance (from the French provenir, 'to come from/forth') is the chronology of the ownership, custody, or location of a historical object.
Cav. Marcello Galli-Dunn, Castello di Badia, Poggibonsi, Tuscany [date and mode of acquisition unknown]; Sale, Galleria Sangiorgi, Rome, May 2, 1905, no. 142; Henry Walters, Baltimore, prior to 1915 [mode of acquisition unknown]; Walters Art Museum, 1931, by bequest.
Geographies
Venice (Place of Origin)
Measurements
H: 60 × W: 94 3/16 in. (152.4 × 239.2 cm)
Credit Line
Acquired by Henry Walters, before 1915
Accession Number

In libraries, galleries, museums, and archives, an accession number is a unique identifier assigned to each object in the collection.
37.1178
Do you have additional information?
Related Objects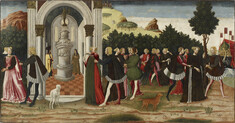 The Abduction of Helen from Cythera
view details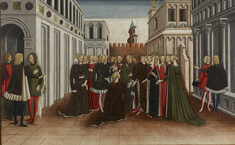 The Reception of Helen at Troy
view details