arrow_forward_ios

arrow_forward_ios
Teapot and Cover
2nd half 18th century
soft paste porcelain

This teapot is part of a service composed of a matching milk jug, sugar bowl, tray, and cup and saucer. The teapot would have held highly concentrated brewed loose tea; potters designed a built-in strainer of sorts, placing a perforated divider between the base of the spout and belly of the pot to prevent the loose tea from ending up in a person's cup. Often times, consumers diluted their tea by adding additional hot water, milk, and sugar. All pieces in the set are ornamented with a rose ground color and a continuous pattern of gold, white, and blue pointille (dots). Each piece contains large reserves, or areas reserved for imagery, filled with floral still lifes or intricately rendered birds of paradise. The teapot contains two oval-shaped reserves, one featuring colorful birds and the other a lush arrangement of flowers.
The factory and artist marks, which appear on the bottom of each piece in the tea service, combined with the rose ground color raise several questions about the dating of the tea service. The factory mark seems to belong to the Royal Manufactory of Sèvres's precursor, the Vincennes Manufactory, which operated between 1740 and 1756. However, the artist's mark identifies Buteux fils cadet as the set's primary painter; he never worked at Vincennes. The rose-colored glaze, which dominates the surface of the entire service, came into production in 1757 at Sèvres. These three distinct, datable elements of the porcelain set do not clearly align, thereby making it challenging to accurately date this porcelain service. The quality of the painted ornamentation and sculpting, however, indicate that the Sèvres Manufactory did produce this set of wares. Perhaps, this tea service is simply a late-18th-century, rose-colored version of an earlier service produced at Vincennes.
Inscription
Measurements
Overall Pot & Lid (A&B) H: 5 3/16 in. (13.2 cm); Pot (A) H: 4 × W from handle to spout: 6 5/16 × Max D: 3 7/8 in. (1038 × 16 × 9.8 cm); Lid (B) H: 1 3/16 × Diam: 2 3/8 in. (3 × 6.1 cm).
Credit Line
Acquired before 1931
Location in Museum
Not on view
Accession Number

In libraries, galleries, museums, and archives, an accession number is a unique identifier assigned to each object in the collection.
48.702
Do you have additional information?
Related Objects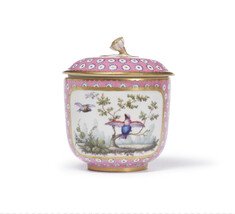 Sugar Bowl and Cover (pot à sucre 'Bouret')
view details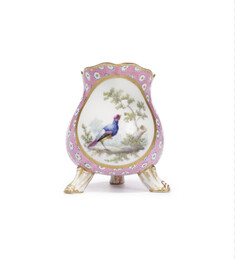 Milk Jug (pot à lait 'à trios pieds')
view details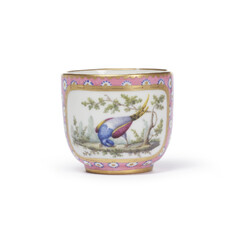 view details