arrow_forward_ios

arrow_forward_ios
Panel with Classical Figures
2nd-3rd century; Carvings: 19th-early 20th century (Roman Imperial-modern)
In the 19th or early 20th century a modern engraver embellished the panels with scenes taken from the antique. The figures on this panel are derived from ancient statues and include Pan, Apollo, Dionysos, and Herakles.
This panel was broken vertically and repaired. The top of this panel has broken, but two-thirds is preserved and has been reattached. The ancient upper edge has two grooves. The back surface is also grooved at the top and bottom, the bottom groove to retain the floor of the box, the top to accommodate a sliding lid. This panel, with Walters 71.500 forms two adjacent sides of a box; the ends are mortised and can be snugly dovetailed together.
Provenance

Provenance (from the French provenir, 'to come from/forth') is the chronology of the ownership, custody, or location of a historical object.
Léon Gruel, Paris [date and mode of acquisition unknown]; Henry Walters, Baltimore, 1929, by purchase; Walters Art Museum, 1931, by bequest.
Conservation
| Date | Description | Narrative |
| --- | --- | --- |
| 8/18/1982 | Treatment | cleaned; examined for exhibition |
Measurements
H: 1 5/16 x W: 3 7/8 in. (3.3 x 9.8 cm)
Credit Line
Acquired by Henry Walters, 1929
Location in Museum
Not on view
Accession Number

In libraries, galleries, museums, and archives, an accession number is a unique identifier assigned to each object in the collection.
71.501
Do you have additional information?
Related Objects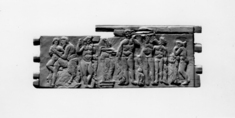 Panel with the Marriage of Peleus and Thetis
2nd-3rd century; Carvings: 19th-early 20th century (Roman Imperial-modern)
view details